type: happy life cartoon
project started: 12.06.2009
last update: 24.08.2009
current state: 0.1%
page visited: 3386

---
You are looking at our sensation... a cartoon. It's about young friends, who saw John Lennon on a video and decided, that usual life is nothing else, but a waste of time and turned to hippie to travel around the world and spread the ideas of freedom and love. During their adventure they understand something important and have fun of course...
The project has just started and if you are interested you are welcome to help.
We weren't born as animators i have to say... But we still get a good result as I think. It is just because we try so hard and make an effort. So I call this movie Do It Yourself cause we are not professionals but trying to do a professional work. And I find a good thing about it as well: It will bring special style to our cartoon, which is not achieved at a studio. We decided to do everything: backgrounds, animation, voices, soundtrack. But the problem is that it takes a lota time! Really! So to finish the project and to make it serious we need help as I said. Generally all you need to help us is a big wish other things you will learn during the process. If you like the idea of a hand-made cartoon about happiness to be young =) you probably have one?! It will be great to create such movie...
So let's see. We need:
animators (people who can make character animation in flash)
musicians (people who can compose and record a song for cartoon or record existing song)
voicers (people who have a good stereo microphone and appropriate voice for a character)
If you are finally interested you can write on forum or e-mail us: hi@briztimqwo.com
Right now we have 20 seconds of cartoon completed. But we still need to put new voices over. We have scenario writen for 5 scenes. Here are some screenshots.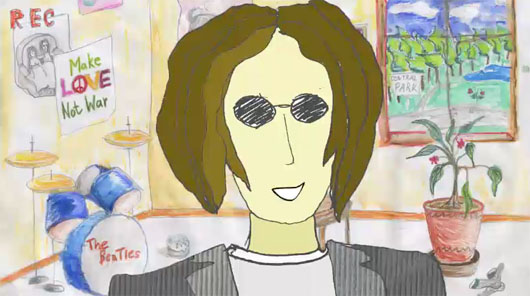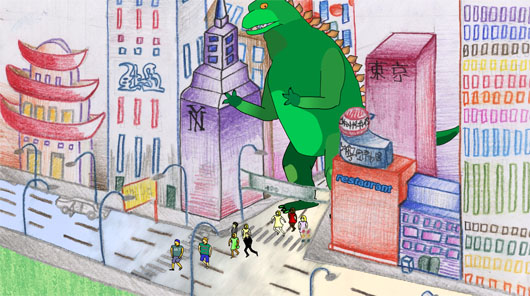 Here I put a kind of log not to forget who did that or another thing.
Eva: Animation of the 01 scene (John front picture).
Veronika: 3 backgrounds for scene 01 and 02.
Karina: painting of 02 scene background.
Ilya: scaning images =) for scene 01 and 02 and some Yoko movements. John's voice.
Dima: flash animation for scene 01 and 02. Sound editing and recording. Video editing. Joaquin Baldwin: advices of a profesional animator from Hollywood =)
Download scene01
Download scene02
Or scene02 video